In this article I will show you how to get windows 10 to auto close apps when you log off your machine.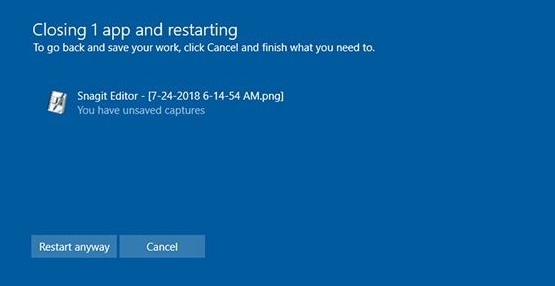 Im sure you have done the same as me, shut down your windows 10 and left your machine thinking it will shut down only to return later to see "Closing 1 app and restarting" window.
To stop this window appearing and make sure your machine shuts down correctly we need to add a registry setting.
Enable Close Apps Automatically At Windows 10 Shut Down
To automatically close open applications we need to enable AutoEndTasks to the registry.  To do this follow these instructions
Click Start, type in regedit and open the registry application
Browse to HKEY_CURRENT_USER\Control Panel\Desktop
Right click on the Desktop folder and select New > String Value

Give the string a value name of AutoEndTasks and value data of 1

The changes will take effect instantly no need to restart your mahcine
How To Apply To All Users
If you wish to apply this setting to all users follow these steps.
Click Start, type in regedit and open the registry application
Browse to HKEY_USERS\.DEFAULT\Control Panel\Desktop
Right click on the Desktop folder and select New > String Value
Give the string a value name of AutoEndTasks and value data of 1
The changes will take effect instantly no need to restart your mahcine