By default Adobe Reader DC is set to automatically download and install any updates that are released by adobe. In this article I will show you how to disable auto updates on adobe reader dc.
How To Disable Auto Update on Adobe Reader DC
There are many ways you can disable Adobe Reader DC updates, I will show you all the ways below.
Disable Within The Application
To disable updates within the application do the following
Open Adobe Reader DC
Go to Edit > Preferences (Windows) or Acrobat /Adobe Reader > Preferences
In the left pane, select Updater
You now have four options
Automatically install updates : The application will automatically check for downloads and automatically install if any are found
Automatically download updates, but let me choose when to install them: The application will automatically download updates and will prompt you to install them
Notify me, but let me choose when to download and install updates: The application will notify you when an update is available.
Do not download or install updates automatically: Never check or download updates

Select the last option Do not download or install updates automatically
Click ok to close the preferences window
Disable Within The Registry
You can set a registry entry which will disable updates. This can be very handy if you wish to apply this setting to many machines via group policy / logon scripts. To apply via the registry do the following.
Make sure adobe reader dc application is closed
Click start type in regedit and launch the regedit aplication
Browse to [HKEY_LOCAL_MACHINE\SOFTWARE\Policies\Adobe\Acrobat Reader\DC\FeatureLockDown]
Right click > New > dword 32bit
name it bUpdater
set base as hexadecimal and value data set to 0 (the number zero) as below
close down regedit
Disable Via Windows Task Scheduler
Sometimes when you disable auto updates via the app or registry the setting can change back to auto update (If you reset / recreate your windows profile or log on to the machine with a different logon)
By disabling the windows task scheduler the automatic check for updates will not work.  To disable do the following
Click on start and type in task scheduler and launch the application

Right click on Adobe Acrobat Update Task at select Disable.

Disable Adobe Update Service
The last thing we need to do is disable the adobe update service, To do this
Click start, type in services.msc and select the application
Scroll down to "Adobe Acrobat Update Service" and double click on the service
Under startup type select disabled
Restart your machine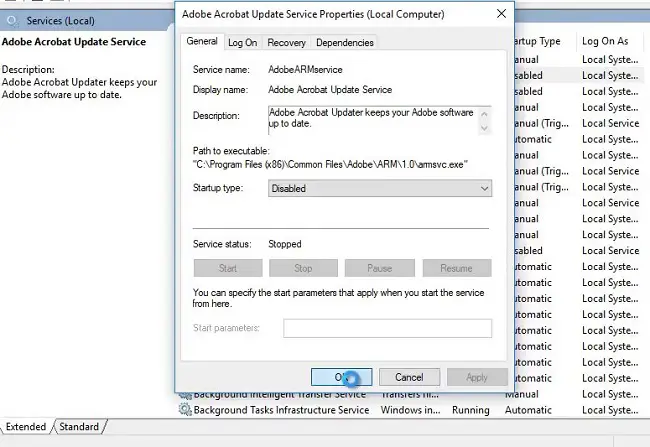 That is all the steps completed.  If you need further help please post in a comment below.  Please also let me know if this article has helped you. Thanks